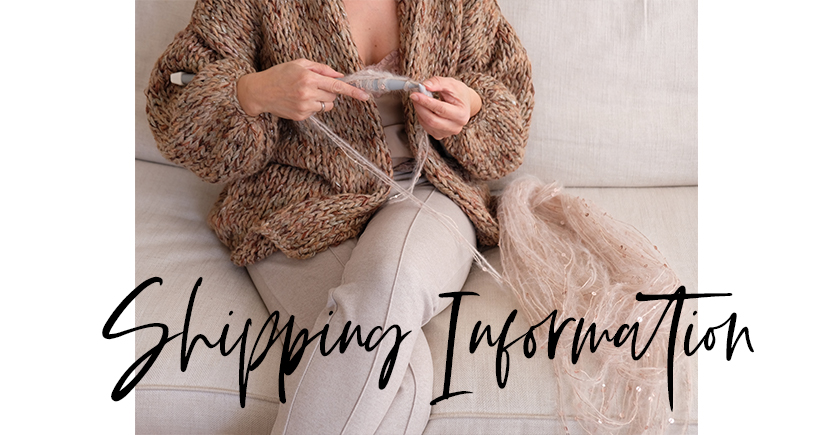 We ship all around the world!
Knitknitz ships to all knit lovers around the world. And we understand that you want to start knitting after you made your purchase, therefore we will send your kit(s) within 48 business after purchase. We provide all packages with a tracking number which will be linked with your shipping confirmation.
Shipping Costs
Knitknitz does not charge shipping costs for shipments within the Netherlands.
Our shipping costs and delivery times:
Country/Region
Shipping costs
Transit Time
Netherlands

Free shipping on orders over €150

€6,75 on other orders

1 to 2 business days
Europe Group A:
Austria, Belgium, Czech Republic, Denmark, France, Germany, Hungary, Luxembourg, Poland, United Kingdom

€18

3 to 5 business days
Europe Group B:
All other European countries

€18

3 to 5 business days
International

€20

up to 8 business days
TAXES & DUTIES
All our kits are excluded from taxes when shopping outside of the Netherlands, so you are shopping our kits tax-free! Knitknitz cannot be held responsible for any duty fees & taxes that may be applied in your country. This responsibility rests with the customer. If you have any queries, please contact your local customs or courier officer for more information.
OWNERSHIP & RISK
At the time of delivery ownership & risk of damage to the goods are passed onto the receiver. A signature is required upon delivery at which point the responsibility for your goods is passed to you. We advise checking to ensure your package is intact and unharmed when received. If you have specified a recipient who is not you for delivery purposes then you accept that evidence of a signature by them is proof of delivery and fulfillment by Knitknitz and the transfer of responsibility has occurred in the same way.